MORE OF OUR SERVICES
File storage
Barcode storage
Scaning services
Web accsses inventory
Record storage same day delivery
We Shred it!
Shredding
Regularly Scheduled Service:
This service is targeted towards organizations that care about protecting their sensitive documents as well as the company's reputation. American Document and Storage, we ensure that your important day to day documents are completely secure from the moment we retrieve them until it is placed in our state of the art facility, ready to be shredded.
One-Time Service:
One time may be all you need to do the trick. Many organizations have files, records, and cabinets taking up much need space in the office. This service is best when you need to destroy sensitive information periodically such as outdated files or old tax records.
Offsite Shredding Services:
Document shredding is an ideal solution for organizations that need ongoing destruction of sensitive documents and files.  We take your material to our state of the art facility and have it securely shred. We provide containers, which are locked to secure the material inside.  Our professional and trained staff will retrieve the containers, and then we transport the materials to our facility to shred them- safely and securely. Your containers stay locked until the moment is ready to be shred.  After your material has been shredded we send you a certificate of destruction.
At American Document Storage & Shredding we care about the environment!
To insure further security of your material and contribute to the preservation of our environment, we recycle paper after shredding it.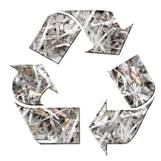 Whether your documents are stored in file cabinets, boxes, microfilm, or outdated computer systems, American Document and Storage, offers a solution. Once we assess your current situation, our team will work with you to devise a customized and efficient electronic filing solution. We can provide access to your stored hardcopy inventory in digital format using our scan-on-demand service. Scanned information can be delivered to you via email or downloaded from our secure server in multiple file formats.